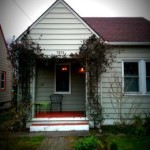 I can't get too deep in the details of selling this home but we got four offers in two days.  The pricing was not fun, which I will talk about when the deal is over.
By far the most interesting aspect of this is watching Jessie, my girlfriend.  I get to watch her from a Realtor's perspective and as someone involved in the transaction with her.
I learned recently that a doctors group did a study and found that only 20% of what a doctor tells his patient is remembered, at best.  And I've found this to be very true.
The day the house went on the market we went apartment hunting but also stopped at a new construction development.  We went to lunch and talked about if the house was right.  I ended up explaining things to her that I had explained before.  I thought she had understood the first time. I only got to explain these things again because I am with her while she is pondering.
How many clients don't know the answer to something and don't call me?  Or how many get the wrong idea in their head.  I must have a plan to make sure the important pieces are understood.
We always talk about the stress and it is real.  I didn't sleep the night before it went up, she didn't sleep well either.  The week before was a lot of work and we were up to midnight that last night getting things ready.  It is amazing the things you start to worry about and clean and move.
Until this deal is over the only things I can really talk about are the emotional factors.  Once it's over I can discuss more of the real estate side.