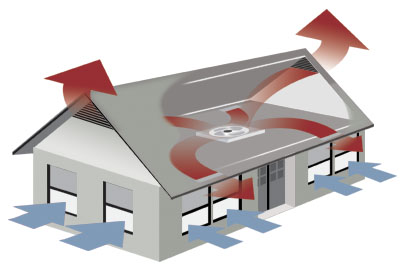 The Portland area is great. We don't get too hot and we don't get too cold. We (usually) get a week or so of snow in the winter and a week's worth of high 90's and 100 degree days in Summer. A lot of homes in the area don't have air conditioners.
I have written about whole house fans before which I am surprised aren't more prolific in the Northwest. But with us looking at possible 100 degree days I thought I would give some tips on staying cool besides hitting the malls and theaters if you don't have AC because there is only so much ice cream you should eat in a day. Well that's why my Mom said.
"Kind of surprising," says Bill Nye, the Science Guy, a scientist, engineer, comedian, author, and inventor. "Having a fan blowing in is a good idea―but it's not as effective as one that's blowing outside."
Close your fireplace damper.
If it's hot but not humid, place a shallow bowl of ice in front of a fan and enjoy the breeze. As the ice melts, then evaporates, it will cool you off.
Replace filters in your AC unit and the furnace which pushes the air through the house.
Closing curtains and blinds (ideally with sun-deflecting white on the window side) can reduce the amount of heat that passes into your home by as much as 45 percent, according to the U.S. Department of Energy.
Use electric devices as little as possible as they generate heat.
Fill a cotton sock with rice, tie the sock with twine, and freeze it for two hours before bedtime. Then slide it between the sheets. Rice retains cold for a long period because it's dense and starchy, says Jim Hill, Ph.D.
A friend on mine sleeps with a cold water bottle on his chest.
Leave your shoes and socks off.
Lay on a dry towel while you have a damp (not dripping) towel as your blanket at night.
Keep the house locked up tight during the day with all shades closed.
An attic fan can blow the heat built up there which at the very least extends the life of your roof but can help keep an heat leaks from inside the house.
Lower the thermostat on your hot water heater.
Setting up your windows for maximum air flow.
Change your lights to fluorescent.
If you have others, please comment.
Sources:Real Simple, LifeHacker
Photo: Not sure where I saw this so I can't currently give credit but it's an awesome idea.