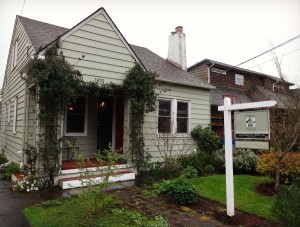 When I first got into real estate I remember being told, "You should buy and sell your own home every four years so you stay in touch with how tough the process can be mentally."  It is tough. It's been reported that it can as stressful as a death in the family.
On Saturday we scrubbed the siding in the porch area which wasn't fun.  The way it is set, it traps breezes which is great during the summer, but when the door is closed it whips the air around leaving dust to build up on the sideing.  We've done touch up paint all over,  actually bought paint that was one shade off, returned it, replaced the doorbell, taken down unused hanging nails, and lots of other things.
Yesterday we got a U-haul storage pod that we pick up, load, and return.  We put all of our extra stuff in there.  It became real and Jessie started feeling anxious.  It didn't help that she dealt with U-haul, and they weren't as helpful as they could have been.  But those are just the start of the minor items that come up and accumulate.
Even though I have been doing this for 12 years, in the end, I won't be pricing the house alone, I won't make the final decision if I'm done with getting the house ready because I'm too close to it.  This is one of the many valuable things a Realtor gives you, professional objectivity for your situation. I will have a few of my Realtor friends look at the house and give me their professional opinion, and then make the final decisions and price and fixes.
And the real stress hasn't even started until that sign hits the ground.   I will keep you updated on my perspective of being a seller and buyer as I go through this process.
Part 2 is here