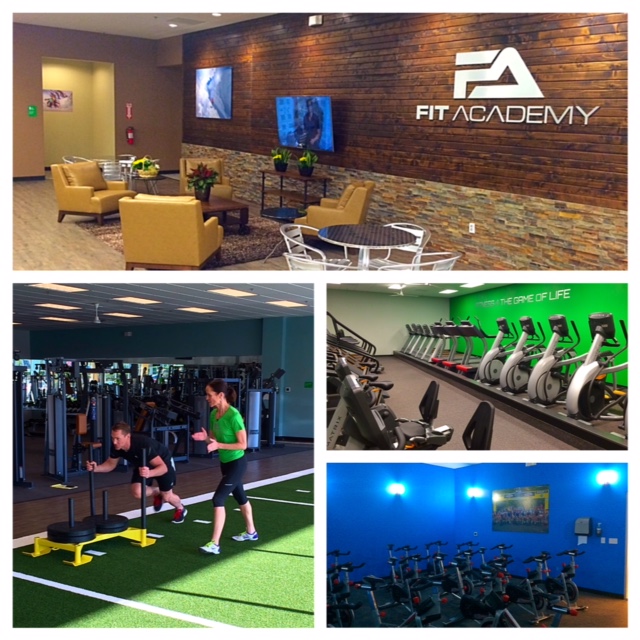 I had the pleasure of meeting Jarrod Cogswell of Fit Academy at Park Place this week. He gave the team a great presentation on working like an athlete.  Like me, Jarrod holds customer service as one of the most important aspects of any business.  Good businesses run on being relational, not transactional. A really clever thing he has done is, instead of calling his people Personal Trainers, he calls them Personal Coaches.
While that may sound like semantics, it reminds them that their job is to motivate and inspire.  I think Jarrod is bringing a great product, a great business, and a great culture to Beaverton which is why I wanted to interview him and share that with you.
What is Fit Academy and what sets it apart from other gyms?
FIT Academy is Portland's first "hybrid" fitness facility. It combines traditional fitness offerings (cardio and strength) and modern fitness methodologies (open space for functional exercise and performance training, large group training and more). While we have the best cardiovascular and strength equipment in the Portland market, our mission is to help people exercise the way their body was intended to move versus adapting to a machine. And the machine actually becomes the complement to their program.
Beyond fitness, we really want to build relationships and connect like-minded people in a high service, non-intimidating environment. In addition, we are on a mission to be known as the cleanest fitness facility in the Portland area… Not just clean, SURGICALLY clean.
Last, but certainly not least, I'm really proud of the expertise and personalities of our team members. At the front desk, you're guaranteed a smile and sincere personality to greet you and our team of fitness professionals will get you the results you are seeking. In addition to one on one personal training, we offer TEAM Training classes (boot camp style and high intensity), Yoga, Barre and Cycle.
When someone is fit, what does that mean to you?
Most people join fitness facilities to reach a specific fitness goal and we have the tools to certainly meet that objective. However, it's not just about the physical aspect of fitness, it's also about the mental. Exercise just flat out makes all of us feel good. It builds confidence, positive energy and self-esteem. It's such an awesome sight to see that transformation in someone and reminds me of our purpose and WHY we do this.
I'm also convinced that exercise helps us develop our will and discipline which helps us continue to get at least 1% better EVERYday.
What's your background?
Wow, that's a loaded question! But I'll keep it short. I grew up in fitness and I'm still as passionate about it now as I was then! I started out as a teenager training at my local gym for sports and then started working there as a personal trainer. I have worked in every capacity in the fitness industry and started managing clubs in my mid-20's.
In fact, I was fortunate to work as the General Manager of ClubSport Oregon for 14 years before I decided to chase my own dream. Since then I started a fitness consulting company, wrote a business leadership book titled "WORK like an Athlete" and I grew my professional speaking business. However, being in the trenches of the fitness business is what I love the most, so I kept working on building what I believe is the perfect fitness concept of today, thus FIT Academy was born.
Why do so many people fail at their fitness goals and what can turn that around?
There are so many factors that we cannot control, so there are some valid excuses for not making fitness a priority in one's life, but generally speaking it's having the right mindset to meet your physical goals. Most people want the quick fix, but it's really about lifestyle. You must make fitness one of your top priorities in your life to reach your goals. And I'm a big believer that you have write those goals down on paper, review them frequently and execute a solid plan.
The end result for the people with the right mixture of focus, perseverance and healthy mindset is more happiness, more confidence, more production and a much better, rewarding life.
Is it one size fits all when it comes to exercise?
Absolutely not. For some, they are happy simply jumping on a machine and moving. For others, it might be something really specific (yoga, running, etc.). However, at FIT Academy we wanted to provide a place where you can enjoy your specific preferences, but also have the opportunity to try new activities to balance your exercise regimen.
Mixing it up really helps people stay on course towards their ultimate results that they are seeking.
What's your passion?
I have a few like mountain climbing, exercise (of course), etc. However, there is no better feeling than helping someone enhance or change their life for the better. In the fitness business, you must be genuinely passionate about helping others. Again, it's not just about the physical, but I love that I work in an industry that makes people FEEL better.
What is Enterprise Athlete?
Enterprise Athlete is my coaching and speaking business. It allows me to help business leaders and teams improve their customer service levels, leadership skills, operational practices and most importantly, team culture. I'm a huge believer that if your business culture is filled with passionate, positive energy and solid team relations, you can beat anyone, even those with superior products.
My workshop companion book, WORK like an Athlete, plays a big part in maximizing business success.
If you could pick a superpower, what would it be?
That's an awesome question and I think it would be to have the ability to eliminate fear and anxiety from those that fail to move forward. Failure and tough times are part of life and we all have our ways to dealing with them. However, if we view them as lessons and learn from them, then we will be even more successful than we would without them.
You can meet Jarrod and get to know the Fit Academy this Saturday (1/17/2015) at their Open House.
Follow them on Facebook.