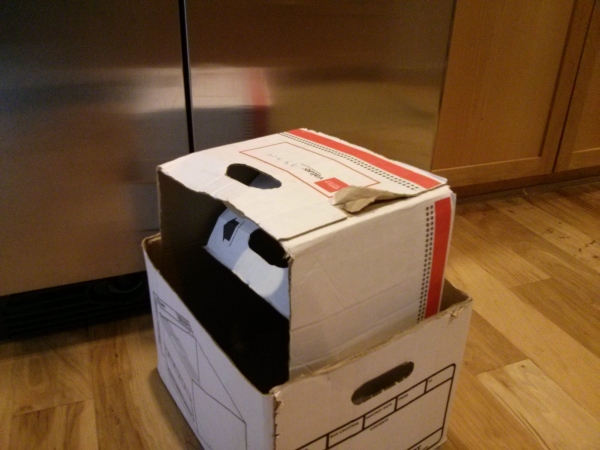 Unless you have an army of people or movers that are helping you unpack, here are some things you should store away in a separate box.
Paper towels – There will be food in the middle of this process, or at least snacking.  Something will break and drip, or something just won't be clean enough for you.
Garbage bags – See above, plus you'll throw away more than you think from your previous residence.
All purpose cleaner – See above
Paper plates, plastic utensils, and cups – You will be eating before the regular stuff comes out. I'm all about saving the planet but throwing this moving day mess away is better than dealing with dishes right after you move in
A hammer – things just need help moving.
Screwdrivers, pliers, and box cutters – You have to adjust and open things.
Water – Soda and beer is great but water will keep you going.
Snacks – Pizza will only go so far and it's greasy.
Toiletries – You don't want to be scrambling through boxes when you or the kid really needs to go.
Enough towels for everyone to shower that night. Chances are everyone got a little sweaty.
Bed Linens – Your bed will be the best spot after this long day, you want to be able to make it when it's time.
Charger cords – Enough said.
Every move is different but this will get you through the first night. Happy moving!